Thanks to Nvidia's Linux4Tegra and work of Bogdacutu and Steel01, as of today I'm running desktop Ubuntu on my Shield Tablet. And it works surprisingly well. Except some tablet-specific hardware like the modem, accelerometers and such, of course.
All it takes is to install MultiROM, patch the kernel and install the appropriate Linux4Tegra installation archive next to existing Android system and there you go:
You can even reasonably play OpenTTD. Amazing. Finally this thing beats the N900. Also this way you can get X forwarding working. Just open remote connection with ssh -CX <username>@<server> and voilà, you can run Eagle on your tablet. Tablet seems to be fast enough for this kind of use, in my case the bottleneck seems to be network connection (even with the compression switched on). I should start looking for some ethernet adapter…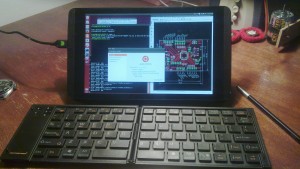 There seem to be some issues with keyboard, or more precisely the absence of it. But since bluetooth works, you can connect wireless keyboard and there is no reason to fiddle with the imperfect onscreen keyboard.
The touch screen works reasonably well. You only get what seems to be single touch, or more precisely mouse emulation. I tried to dump touch events from the driver by evtest, but the touchscreen stopped responding at all.
Some other problems with touchscreen include breakage with system update (you need to manually switch X and Y axes in Xorg config files after running apt-get update, apt-get upgrade) and the axes sometimes switch incorrectly after changing screen orientation as well and get fixed after reboot.
Alright, let's get back to playing with this little wonder.